Me - Elton John (Pan Macmillan $22.00)
Sex, drugs and rock'n'roll has become the mantra of virtually every rock star since the species was invented and there's no shortage of it in Elton John's new autobiography Me. Ghost-written with The Guardian's pop critic Alexis Petridis, the elder-statesman of British pop has a right royal time of debunking and endorsing myths about him and his extravagant lifestyle in a marvelously self-effacing and revealing tell-all. And he doesn't stint on the gossip either.
Born Reginald Kenneth Dwight in 1947 in Pinner, a North-West London suburb, he began playing pub-piano at 16 in Northwood Hills Hotel. His idols were Little Richard, Jerry Lee Lewis, Ray Charles, Bob Dylan, Elvis Presley and the "jolly Trinidadian lady Winifred Atwell", whose style of piano-playing he admired and copied - "The way she would lean back and look at the audience with a huge grin on her face while she was playing, like she was having the best time in the world." It could be describing any Elton John concert of the last six decades.
The off-spring of a chronically unhappy marriage, he loved his no-nonsense grandmother, who came to his rescue when his foreskin got caught in a trouser zip as a boy.
He studied at the Royal Academy of Music but knew he would never become a classical pianist as his fingers were too short. He was also a statistic freak, a record-collecting obsessive, and good at sport, which is why later in his career he bought the Watford Football Club and took it from Third Division to First.
He changed his name to Elton John when he was playing in the band Bluesology, taking the John from lead singer Long John Baldry and Elton from another band mate.
His outrageous fashion sense burst into creative flower when he met Tony King, an openly gay man who worked for Dick James Music where John was employed. He met his writing partner and lyricist Bernie Taupin when they both answered an ad for talent in the popular UK music publication New Musical Express, placedby Liberty Records A&R man Ray Williams. At the time Taupin was living in Lincolnshire, in Owmby-by-Spital, and pushing wheelbarrows full of dead chickens for a living.
Empty Sky was the first John/Taupin album, released in 1969, but it was in the 1970's that Elton John produced their first hit single, "Your Song", which John had knocked off in fifteen minutes. Since then they have collaborated on 30 albums, making them one of the most successful songwriting duos in pop music.
With success came uncontrollable excess for John - tantrums, lavish spending and out-of-control drug binges. The drug addiction lasted for 15 years.
"The first line I snorted made me retch. I went out to the toilet and threw up, then immediately went back and asked for another line."
At one time during this period his days were filled with snorting coke and watching porn. It was also the legendary time he called his office and asked some chap to do something about the weather: "It's far too windy here, can you do something about it?"
A late bloomer when it came to sex, he had his first experience when he was 23 with John Reid, a Scotsman who became his financial adviser and who later turned out to be dodgy. John claims he missed out on catching HIV because he was more voyeur than participant when it came to orgies.
But it's the gossip and dissing of fellow rock stars that provide the laughs - like when he asked Yoko Ono what happened to the herd of cattle she and John Lennon once bought - Yoko shrugged and said "Oh I got rid of them. All that mooing." Or the time he and legendary drag queen Divine were refused entry to New York's gay bar "Crisco Disco" because they were over dressed! Divine was in a caftan and John a flowered shirt.
He was "never great friends with David Bowie", who called him "the token queen of rock and roll", but he adored John Lennon and got on famously with him.
Early in his life he got engaged to Linda Woodrow, but called it off when he met a new boyfriend. Later he married German recording engineer Renate Blauel in Sydney in 1987. They were divorced a year later.
After a lifetime of disastrous relationships, he finally met and married (when it became legal in the UK) Canadian David Furnish. They had a stag party at a gay Soho club where Ian McKellen came in drag as Widow Twankey.
John's mother was prone to constant mood swings, which came to a head when he married Furnish, and she viciously said, "you care more about that f**king thing you married than your own mother." It was seven years before he spoke to her again.
John used his public profile to raise awareness of AIDS and fought for the elimination of prejudice and discrimination against HIV/AIDS patients. He annually raises money for AIDS charities.
There's little about the nuts and bolts of songwriting. Taupin wrote the lyrics in one room and then gave them to John, who sat down at the piano and set them. No editing, no agonising. And he was prolific too, setting "Mona Lisas and Mad Hatters", "Amy" and "Rocket Man" before breakfast one morning.
The Lion King, written with Tim Rice's lyrics, despite becoming the second longest running musical on Broadway and being the biggest grossing Disney animated film ever, gets scant mention except the fact that he wrote a song for a warthog who farted a lot. Likewise, his other forays on Broadway - Aida, Lestat and Billy Elliot - receive only brief mentions. His tribute single "Candle in the Wind", reworked for Princess Diana's funeral in 1997, stands as the best-selling single in the UK and US charts, having sold over 33 million copies.
Currently on his Farewell Yellow Brick Road tour around the world, John's epic career has never been more brilliantly captured than in the pages of this book. It's racy, it's vivid, and it's a must read!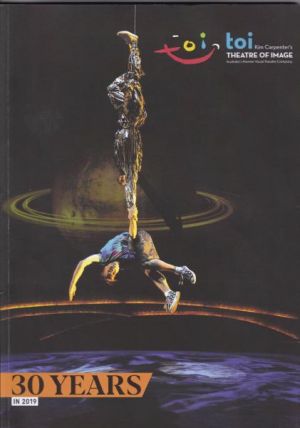 Toi Toi - Kim Carpenter's Theatre Of Image: 30 Years In 2019 (Theatre of Image $30.00)
This book is a retrospective of past productions of Kim Carpenter's Theatre of Image and was launched at a celebratory party at NIDA in September 2019 on the announcement that after 30 years of operation Theatre of Image will close.
Initially founded by Carpenter as a Theatre in Education company, under Carpenter's astute artistic vision it became Australia's premiere visual theatre company, with The Australian proclaiming "Theatre of Image is the best possible introduction to theatre children can have" and the Sydney Morning Herald saying "Theatre of Image holds a special and unique place in the Australian theatrical landscape."
The book contains full-colour spreads on all of the 27 original shows, plus anecdotes by Carpenter, actors and practitioners. From the beginning TOI integrated film into their work and later digital animation in Jake and Pete – A Road Story for Cats! which featured The Umbilical Brothers, who interacted with a host of cartoon characters on the screen behind them.
Their successes include: Monkey…journey to the west (2014), The Book of Everything (2010-2013), which included a season on Broadway, and national and international tours of Oscar Wilde's The Happy Prince, which became their most successful production and remained in their repertoire for 16 years. It has now become a major ballet with a new adaptation by Carpenter, who has also designed sets and costumes, with choreography by Graeme Murphy and music by Christopher Gordon, which the Australian Ballet will perform throughout 2020.
It is an impressive achievement in Australia that an independent theatre company, underpinned by one individual's singular distinctive vision, has sustained a successful life for three decades. Carpenter deserves our hearty applause. TOI will be missed.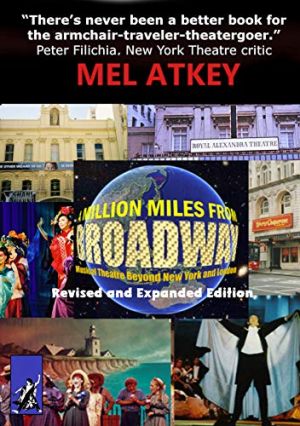 A Million Miles From Broadway – Musical Theatre Beyond New York and London – Revised and Expanded Edition by Mel Atkey. (Friendly Song Company A$42.44)
Mel Atkey has updated and expanded his 2012 A4 sized book into this more bookshelf friendly tome. If the previous version was monumental in its research, then this update is even more all-encompassing, and at 644 pages is a veritable bible of musical theatre outside of London and New York.
Atkey's premise is to "explore the diversity of multi-national musical theatre, and to learn its craft by examining the works that have gone before – in all parts of the world." He succeeds very well because the book covers all types of musical theatre including operetta, zarzuela, revue, cabaret and jukebox musicals. It doesn't include the innumerable international productions of The Phantom of the Opera, Les Miz or Mamma Mia! - that's another book - but looks at originally created work in the various countries.
Act 1 begins with the birth of the musical theatre in Paris with Offenbach's Orpheus in the Underworld in 1858. He then discusses operetta in Vienna and Berlin before we get to Gilbert & Sullivan's comic opera oeuvre in London.
We cross the pond to New York with the arrival of Jerome Kern's Princess Theatre shows, the Gershwins and Rodgers and Hart, and in the thirties the London work of Ivor Novello, Vivian Ellis and Noël Coward.
A chapter on Rock 'N' Roll discusses rock influences in musical theatre (Hair/Rent etc), and one on musical writing craft quotes Lehman Engel, Stephen Sondheim and Dave Mallory.
Act 2 looks at "Europe After Hitler", with international successes Irma la Douce, Les Misérables andOnce, the post-war British musical andAtkey's home country, Canada, which has added its recent international hit Come From Away. There's a large and detailed chapter on Australia, with entries as recent as The Detective's Handbook, Melba and Evie May. South Africa (in the original manuscript) is now just Africa and the chapter includes Egypt. South America and Asia follow.
Atkey visited the Daegu International Musical Festival in 2019, so there's quite a lot about what's happening in South Korea, while Singapore has been beefed up with more entries.
Stephen Schwartz's 2016 Vienna-only Schikaneder is mentioned, along with a passing reference to Frank Widlhorn's South Korean The Man Who Laughs, but Wildhorn's extensive catalogue of musicals in Prague (Carmen), Switzerland (Count of Monte Cristo/Excalibur) and Japan (Never Say Goodbye/Cyrano) are ignored.
Still, considering the scope and parameters of Atkey's focus, it's a magnificent work and should be on the shelf of every musical theatre geek around the world. Atkey's love of the genre shines through on every page. It's an easy read and indispensable as a reference work. It comes with an index and some images of the players and productions.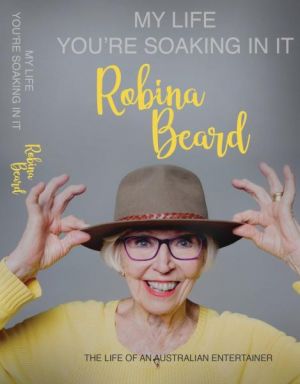 My Life You're Soaking In Itby Robina Beard.(Playscript $24.99)
Robina Beard has spent a lifetime in the arts and a lot of it in dance or dance related projects. She has been National President of Cecchetti Ballet of Australia and President of AusDance NSW. She has a Lifetime Achievement Award from the Australian Dance Awards, of which she was Chair and a founding organiser, and a Medal of the Order of Australia "For service to the arts, particularly through dance."
Her biography begins with her post-war childhood in England and follows with her early education in Australia and her dance training.'
She started her career for J.C. Williamson's in 1954 in Can-Can, dancing in the chorus, her one and only stint as a 'chorus girl'. She became obsessed with intimate revue and the work at Sydney's Phillip Street Theatre, joining the company for a NSW Arts Council tour of The Willow Pattern Plate. She later played the March Hare in Alice in Wonderland for the same company and followed with several of their original musicals, which included Ride On a Broomstick, Mistress Money and A Wish is a Dream, but had her greatest success playing a flapper in the 1920's set Flaming Youth.
Beard understudied Judy Bruce in the original Australian production of Irma La Douce and played the role many times, then did the original Australian seasons and tour of The Sentimental Bloke.
In the sixties she worked in television, on IMT (In Melbourne Tonight) and as a weather girl, and appeared in one of the first Aussie TV sitcoms, Barlie Charlie, alongside Sheila Bradley.
Her brother Chris, after success in Australia scripting Revue 61, moved to Toronto, Canada. Beard visited him and ended up as one of the performers in the long-running revue Spring Thaw. She stayed two years and then returned to work in Australia at Phillip Street again, this time as choreographer of Hail Gloria Fitzpatrick. A revival of The Boy Friend and Anything Goes followed.
In 1968 Beard was offered a TV commercial that would bring her national fame, as Madge in the Palmolive Dishwashing Liquid ad which ran for 20 years. She next played Theatre Restaurant (Dimboola/Girl's Night Out), appeared briefly in No. 96, and returned to musical theatre in Chicago, The Stripper and Four Lady Bowlers in a Golden Holden, a compilation show at of some of the best sketches from the Phillip Street revues, which played at Kinselas, Darlinghurst in 1982.
She later taught dance to Aboriginal students at NAISDA. Beard has had a rich career, achieving many of her dreams and missing out on others. She desperately wanted to play the title role in Sweet Charity, but when told that Nancye Hayes was already cast and they asked her understudy, she said "Oh no I couldn't understudy someone I was better than."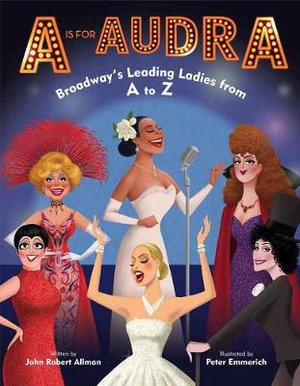 Cassie in A Chorus Line was another role she wanted and was emotionally destroyed when they dismissed her after she sang a song and didn't want to see her dance.
The book is full of spelling mistakes. Par for the course these days with self-published titles, and it would have benefited from someone fact checking. David Merrick did not close On a Clear Day You Can See Forever out of town (it played 280 Broadway performances with Barbara Harris and John Callum), and the song is called "Hurry! It's Lovely Up Here" not "Hey Buds Below". The show that did close out of town was Breakfast at Tiffany's, with Mary Tyler Moore and Richard Chamberlain.
Still, despite the errors, it's an engaging read, especially the early post-war years in London and Australia in the fifties.
A Is For Audra – Broadway's Leading Ladies from A to Zby John Robert Allman / Illustrated by Peter Emmerich.(Doubleday Books for Young Readers A$27.94)
This cute book is the ideal gift for young budding musical theatre geeks. A series of caricatures and verses of Broadway leading ladies, it starts with Audra McDonald as Billie Holiday in Lady Day at Emmerson's Bar and Grill -
"A is for Audra, who awes and amazes,
With each line and note, all the critics sing praises,"
- and ends with Z is for Liza – with a "Z," not an "S"! In between there's a host of divas from Bea Arthur and Sutton Foster, to Ethel Merman, Bette Midler and Barbra Streisand. The prose is fun and the caricatures capture the ticks and quirks of the subjects with loving admiration.